We are blessed.  Blessed to live in a place where freedom is a top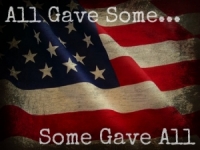 priority.
We are free to worship as we please.  Free to be who we are.  Free to strive to be our best.  Free to choose our own path.  Free to speak up when we disagree.  We are Blessed to live in the United States.  Despite our growing pains we are a great nation with a proud history.
Our blessings have been and continue to be protected by our military, the Army, Navy, Air Force and Marines.   These men and women are our neighbors, our families, our friends.  We are grateful for their service and their sacrifices.
"No one has greater love than this,j to lay down one's life for one's friends." – John 15:13
On this Memorial Day I ask you to stop for at least a few moments and say a prayer for our service men and women.  A prayer of thanks for their willingess to protect our freedoms.  A prayer for all those who gave their lives to protect us.  A prayer for their families and friends who miss them and whose lives have ever been changed because of their willingness to serve.  A prayer of thankfulness and remembrance.
Tile Sensations will be closed Saturday, May 26th thru Monday, May 29th to observe Memorial Day.  We know we could be open, offer a sale and capitilize on the hype.  However we choose, out of respect, to honor the men and women who have fallen.  Some things are more important than selling tile.
Jennifer – #tileanddesignaddict