Its been over a month since I last posted, but as you know Life Happens.
Life has definitely been happening around here.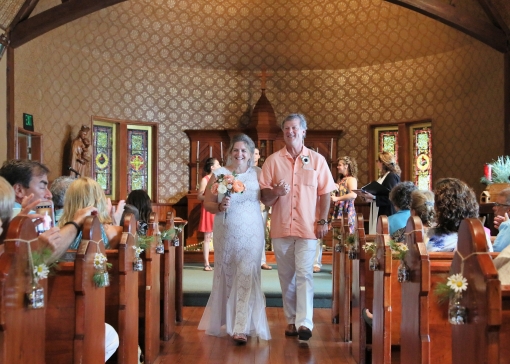 For one thing, I got married and took some time off! You likely know weddings take a lot of time to plan and a lot of time to recover, so I needed that time off.  Whew!  We both still feel a bit tired.
But now I am ready to get back into the swing of things, both at home blending our "stuff" and at work designing spaces.
Thinking about our wedding and all the details that go into planning a wedding reminds me of the details you need to think about when tiling or working on any home project.  It's all in the details.  We had so many details to remember for our wedding, from pew markers to boutonnieres to our vegan guests meal selection.  In a remodeling project you need to remember transitions, lighting, finishes and more.  Not to forget a contractor choice and a budget.  Plan, Plan, Plan and do not forget the details is true for either planning a wedding or a space.
While my hubby and I were vacationing we stopped at the beautiful Historic St Johns Catholic Church in Utica, New York.  One of the first things I noticed at the church, after I recovered from the awesome beauty of it all , was the attention to detail.  This historic Church was built in the late 1800's and they did not miss a beat.  If you are ever in Utica we highly recommend a stop at this beautiful church.  Here are a few of the fantastic details you would not want to miss.
We took so many photos of the details it was hard to choose which to post…. so here a a few more.  Showing tile of course.  Note the borders, note the details in the floor that was installed one little piece at a time, note the solid marble moldings.  The designers of this magnificent space did not miss a beat.
Every detail is carefully placed to impact your experience here.  Unfortunately in design today, corners are often cut or a step is skipped because it might take a little longer to install or we might have to wait for the right piece to be made.  To avoid cutting corners I suggest you plan out your project.  Review the steps, the budget, the desired results before anyone begins to work in your space.  I admire our clients who plan ahead and have all the pieces and parts they can possibly get their hands on, ready and waiting for the contractor before the project begins.  It is an awful feeling when your contractor asks you for a decision you have not even thought about.   It is in these rush decisions that we end up compromising for less than the best outcome.
In my dream remodeling world I hope for you that your project is carefully planned, that the details are carefully selected and that your dream project becomes a reality. If we can help you with that, just let us know.
Jennifer – #tileanddesignaddict